One of the great advances in hotel design has been the inclusion of accessible facilities on property for all guests. Yes, it is a law, but it is also the right thing to do. As an extension of that best practice in architecture, the social media experts at BCV have written a detailed white paper on ADA Compliance in social media.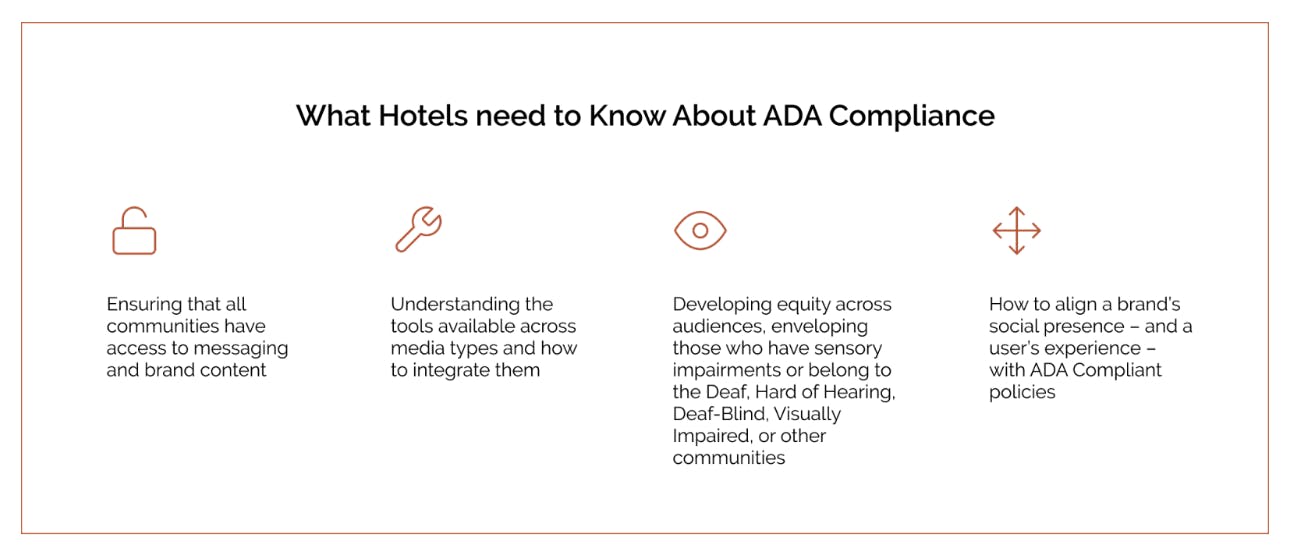 Overview
Ensuring that all communities have access to messaging and brand content is a critical area of consideration for marketing and communications planning. Understanding the tools available across media types and how to integrate them can assist brands with developing equity across audiences, enveloping those who have sensory impairments or belong to the Deaf, Hard of Hearing, Deaf-Blind, Visually Impaired, or other communities.
Specific to social media, the platforms themselves largely control accessibility and the user experience, with Facebook, Instagram, LinkedIn, Twitter, Pinterest, YouTube, TikTok, and Snapchat each featuring different capabilities. Unlike a website user's experience that can be informed by backend development, brands do not have the access to change how a social platform integrates accessible features. However, brands can make use of the available tools and features provided by each platform to provide a thoughtful experience to as many audiences as possible.
Although social media is a controlled, third-party platform, there are certain steps that marketers can take to align a brand's social presence – and a user's experience – with ADA Compliant policies. Below are a few best practices that BCV recommends in order for brands to put their best foot forward in the world of ADA compliance and accessibility.
Recommended Best Practices
Accessible Communication. Ensure business information is clearly listed and easily found across social pages to facilitate clear communication between your brand and people who may have questions and concerns regarding your accessibility accommodations.
Written Messaging. In order to provide more accessibility for audiences who are within the deaf or hard of hearing community, it is important to ensure your content messaging comes through in instances of videos with audio. When posting videos, if closed captioning is available on the platform, this can be an efficient way to provide accessibility to more people. Certain platforms have taken initiative in this regard and added automated captioning functions. If unavailable, spoken copy within the video should be echoed in the caption of the video to provide context. Here are some examples of platforms that streamlined closed captions options:
Instagram
Stories. Utilize the Captions Sticker when posting video content, which automatically transcribes spoken copy onto the screen.
IG Threads. A hack to adding closed captions to videos is by downloading Instagram's Threads app. This platform allows users to easily upload videos, activate automatic closed captions, and then save the video without posting. This feature also allows users to adjust where on the screen the embedded captions will live, so that it fits within the formatting of the platform you will be uploading it to, no matter if you are uploading it on IG, FB, or elsewhere.
In-Feed Videos. Opt in to in-feed, automatically generated captions for all video posts with audio.
Facebook
Stories. This feature behaves nearly identically to Instagram Stories. Simply select the Captions Sticker, and the closed captions will be automatically generated.
TikTok
TikTok allows for easy closed captioning when posting video with a speaker. Simply select the Captions option before posting, and the platform will automatically generate closed captions.
YouTube
YouTube offers automatically generated captions that can be added and edited before posting a video.
Hashtag Capitalization. Capitalizing each word in a multi-word hashtag allows for easier recognition by text-to-speech programs. For example, #solotravel may be harder for a program to read, while #SoloTravel will have much higher visibility.
High Color Contrast. Graphics and video should be designed with color contrast in mind; Font and imagery should be selected to provide high contrast for visibility and to assist with readability. The fonts themselves should be clearly legible and large.
Emojis in Moderation. Emojis are not text-to-speech friendly, and therefore should be used in moderation, reserved for times when they have clear value-add, or are held until the end of captions. Also, refrain from using emojis to replace words; This can cause confusion for someone listening to your content read aloud.
For additional opportunities by platform, please see our resource guide, below.
Content Creation
Brands can remind their communities that accessibility is a priority through messaging and content decisions. Additional ways to connect with travelers with disabilities may be:
Inclusive Messaging
Incorporating inclusive messaging is the most important step in maintaining an inclusive social media presence. Posting photos that showcase accessibility features, such as an ADA Compliant pool lift or roll-in showers, can give potential guests the confidence to book with your brand. In addition, provide a link in the caption to your brand's ADA webpage for a full list of on-site accommodations.
Be sure you have listed all of your accessibility offerings on the brand website, with clear navigation to this page. In addition, in social messaging, consider prompting guests with disabilities to "check with us" if they are unsure about their stay, and provide clear pathways of communication to potential guests to ask questions about your ADA Compliance offerings.
Partnering with a sign language translator for events can be another way to provide accessibility. And as with any messaging, the primary objective should be authenticity.
Influencers
Influencers and content creators are leaders in their online communities, often with an extensive and dedicated fan base. Partnering with an influencer who is a member of the community of people with disabilities can position the brand to be a listener and advocate, as well as financial supporter of the community's favorite social media creators.
BCV Approach
Social media is an important tool for consumers to research the brands they want to do business with. One important question people with disabilities ask is: "Is traveling with this brand possible for me?" There are many brands that are proud of their efforts when it comes to accessibility at their properties, including accessible rooms, amenities, and accommodations. The labor afforded to make these offerings possible should be swiftly supplemented by clear descriptions on the brand website, as well as social messaging. 
People with disabilities often have extensive social networks, especially within communities of people with disabilities. And depending on the individual, people with disabilities are more likely to travel with at least one other person. One good review has the potential to lead to extensive recommendations from them to their friends and family, who may also have disabilities. 
Aligning social media pages with ADA compliance requirements is valuable to travel brands, most importantly because it builds a company community that supports and includes everybody and every experience. Social media is one of the top tools consumers use to research and evaluate brands, and BCV believes that brands with social media infrastructure to reach people with disabilities are setting themselves up as professionals of inclusion and thoughtful consideration. 
Platform
Government
Digital.com – "Federal Social Media Accessibility Toolkit Hackpad"
Blogs
The Real Alexa – "Accessibility on Social Media" by Alexa Heinrich
Travel Market Report – "Building a Client Base within the Special Needs Travel Niche" by TravelMarket Report
Creative Examples
Closed Captioning
Google's "How to Heal" Ad – An incredibly moving ad, this video conveys its messaging well, both with sound and on silent, thanks to closed captioning.
High Color Contrast
Allbirds – This ad has clear color contrast with bold lettering, making it easy to read.
Capitalized Hashtags & Emojis in Moderation  
The Sill – This post by The Sill capitalized both the words in their hashtag, as well as saved all their emojis until the end of the caption.