IGTV Changes the Way Users Interact With Visual Content
In less than a decade, Instagram has grown into a global community of one billion with its average user spending 53 minutes per day on the app. Understanding the ever-evolving nature of social, one can't help but attribute this Insta-success story to its ability to quickly adapt to the latest trends, the most recent being vertical video.
Instagram predicts that mobile video will account for 78% of total mobile data traffic by 2021. While video content is currently thriving on Instagram Stories, users are limited to 60 seconds per video. So, what's next? As it turns out, it's already here—join us as we tune into the world of IGTV.
What is IGTV?
As of now, a lot of users simply know IGTV as the button they accidentally tapped in the upper-righthand corner of Instagram. If you fall into this category, we hope the following insight will provide further clarification.
IGTV is an optimized mobile video platform that brings users closer to the Insta-icons they love. What distinguishes this streaming platform from others of its kind is its vertical formatting.
Instagram cracked the code: if users are going to spend more time watching videos on their phones, the media should accommodate the technology's intended upright position.
So, how is this different than Instagram Stories? We're glad you asked. What sets IGTV apart is  the ability to upload longform content—up to one hour of video for verified accounts. Better yet, your videos will not disappear after 24 hours. While it's easy to access within Instagram app, a separate IGTV app is available as well.
Just like your classic cable television, IGTV begins playing as soon as you open the app. It's easy to flip through channels, browse for content, and multitask. The best part? There are no commercial breaks.
At first this may sound overwhelming, especially since a whopping one billion people can contribute to this new medium. But don't fret, Instagram knows us better than that. The content that populates to each user's screen is carefully curated based on accounts you already follow.
What opportunities does IGTV offer for businesses?
It probably comes as no surprise that the social media fanatics at BCV are jazzed about Instagram's new extension. Now, individuals and businesses have the opportunity to showcase longform video content with a global community—especially those users with whom they have already established an online following.
In consideration of BCV's area of expertise, the hospitality industry, 60 minutes of uninterrupted content will allow our clients to delve deeper into the discovery and storytelling aspects of travel.
Need a visual? Let's look at how other travel and hospitality businesses are using IGTV: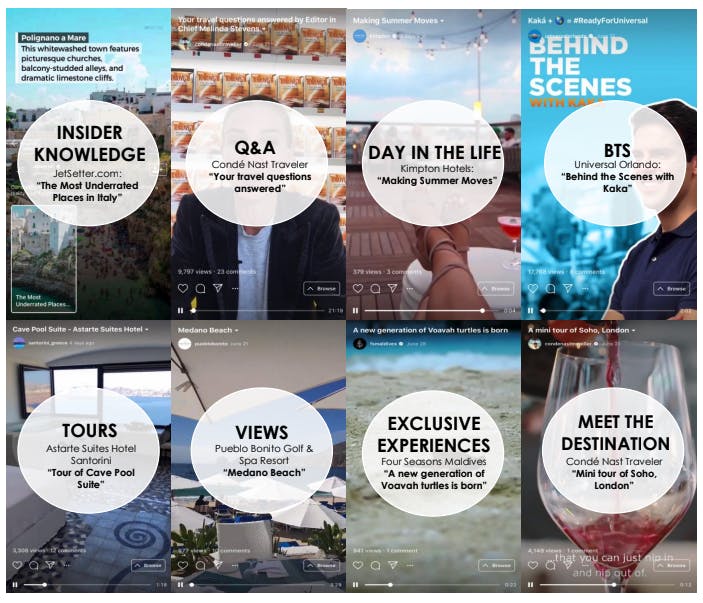 Where to Start?
First thing's first, start by expanding your business's vertical video library. For those who are eager to test out IGTV, try experimenting with recycled, high-performing assets from past Instagram Stories.
With discovery at the core of travel, IGTV offers a unique platform for hotels to connect with target audiences. Whether it's a behind-the-scenes look into your executive chef preparing a lavish meal or an influencer spotlight—the opportunities are endless.
Final Thoughts
Vertical video is taking over and we're loving it. Your friends at BCV are eager to see how IGTV continues to emerge as a social sharing platform, further allowing brands to form lasting connections with users.