INTRODUCTION
Audio content has been gaining immense popularity in social media platforms. People are increasingly drawn to the power of sound, as it allows them to consume information and entertainment in a more convenient and engaging manner. Whether it's podcasts, music streaming, or voice messages, the use of audio has become a prevalent trend in the digital landscape. Of all the different audio formats, perhaps the most powerful involves Trending Audio. In this article, we will explore the various ways in which trending audio is revolutionizing social media and how you can effectively leverage this medium to enhance your online presence.
THE POWER OF TRENDING AUDIO
Trending audio is audio that is growing in popularity and being used repeatedly. Trending audio has the ability to captivate and engage audiences in a unique way--by being popular. It provides an opportunity for content creators to leverage popular sounds and music to enhance their messages and storytelling. Best of all, it is rights cleared for temporary use on the social media platforms. By using trending audio, you can tap into the collective consciousness of social media users and create content that resonates with them. This can help elevate your content and increase its reach and visibility.
HAVE YOU HEARD THAT?
There are several ways to discover trending audio on social media platforms. The easiest way is often overlooked! If audio is trending, you'll see a tiny arrow next to the sound in a social media post. This arrow indicates that the audio is currently trending and a lot of people are using it in their content. Many platforms also have dedicated sections or features that highlight popular sounds and music. Take advantage of these sections to discover new and trending sounds.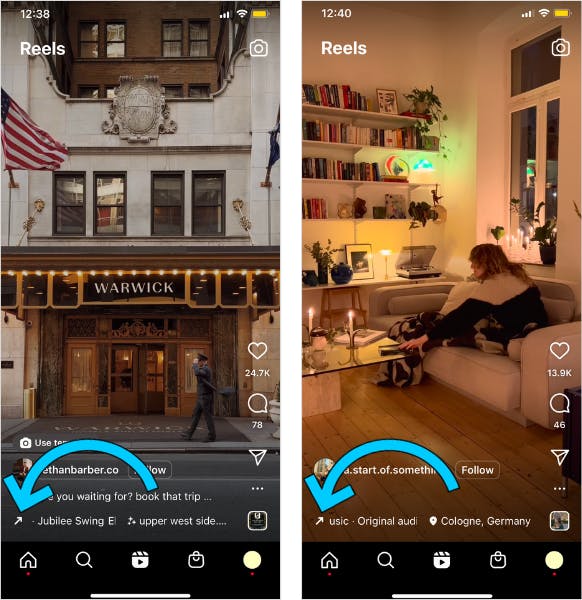 On TikTok, for example, you can browse the "Discover" tab to find trending audio that creators are using. Browse your business account's IG reel feed regularly. Stay up to date with IGs trend reports as they come out: IG account @creators. Stay up to date by scrolling your Reels and Explore pages.
Monitor user-generated content related to the hospitality industry. Be in tune with industry influencers and collaborate with them when applicable. Influencers and content creators often use trending audio in their posts. By following popular creators in your niche, you can see what audio they are using and stay updated on the latest trends.
Remember, look for the little arrow by the audio's name.
DEEP TRACKS
Want to explore above and beyond the social networks? Keep an eye on hashtags. Popular hashtags related to music and audio are easy to search and track. Those hashtags will also lead you to discover online communities or forums dedicated to discussing audio trends. These groups focus on predicting trending audio and often call out the tunes used in popular social media posts. To go another level deeper, subscribe to newsletters and blogs that cover music and audio trends.
Of course, luxury hotels are special, and the tracks you use should reflect that. Focus on tracks that evoke a sense of luxury, sophistication, and exclusivity. Also, be sure to select trending audio tracks that align with your content and target audiences.
Affluent travelers will enjoy one 'travel soundtrack', while Gen Z or millennial travelers will have an entirely different playlist which will be different from the tracks favored by experience seekers. You can almost hear the different songs for these unique groups, right?
Sometimes you want to follow, but other times you might choose to create the trend. Make the track your own and more engaging by adding your own twist. Use sound effects along with trending audio to create a more immersive experience. Remix or mashup the song and make it yours. One way to do this is to use filters and effects to enhance the audio and make it more dynamic.
TIPS & TRICKS
Trending Audio sounds great, but it definitely requires some background to make it work right. For example, many viral Reels songs/audios come from TikTok, and are re-uploaded into Reels so they aren't easily searchable due to a lack of name/proper credit to the original artist.
Instagram doesn't provide an easy chart or way to see what songs/audios are trending on Reels. Note - there are limitations with types of IG accounts, so want to be sure you are exploring from your business account. IG has a library of audio created to use for you!
Usually, these songs are cleared for limited use for copyright and royalties. But ensure the audio is from a public account and available for use.
Also, remember that trends on Instagram Reels come and go very quickly, much like TikTok trends, so articles on supposed trending songs/audios for Reels become outdated really quickly.
Most of all, have fun with exploration. After all, there are a lot of topics that are not as exciting to research! And remember that the best way to get a feel for what's trending in audio is by actively engaging with social media platforms and exploring their features. In other words, listening to great music!
EXAMPLES OF AUDIO FOR LUXURY TRAVEL AND ELITE HOTELS
This audio being used to showcase amazing places for travel reels
This song being used for dreamy and ethereal clips
This audio being used to showcase fun and fast-paced travel
This audio being used for tropical vacations
This audio to share travel tips/tricks