They say that a picture is worth a thousand words, which for brands, is especially true when it was taken by someone else.
The use of user-generated content, or "UGC," by brands has been rapidly increasing largely due to the fact that UGC adds a sense of authenticity to a business's social content and creates much higher engagement than traditional branded content.
Reposting UGC may not be successful for all industries, but it has proven to be an important tactic for travel and hospitality. In fact, out of 50 active hospitality brands on Instagram, roughly 45% of all content published is UGC. This proves that hotels have experienced the power of UGC and have witnessed that sharing guests' content increases trust, brand awareness, and engagement.
When hotels utilize UGC, consumers become more involved in their business. It's a simple strategy that allows marketers to simply "amplify the love," that consumers share on their own personal social networks and thus draw others to the brand. When customers become involved with a brand, loyalty to the brand will also increase—especially among millennials. In fact, forty percent of Millennials admit that they rely on UGC to inform their own travel plans making it not hard to believe that 72% of users post to social media to share their vacation or hotel experiences.
Put Into Practice 
Hotel del Coronado, a client of BCV, wanted to establish their Instagram account as the "go-to" platform for showcasing the property and its offerings, and as a way for the hotel to show appreciation to the local community; therefore, BCV developed a robust UGC strategy. By proactively sharing UGC content paired with short and aspirational copy two to four times a week, Hotel del Coronado's Instagram following grew by over 16K followers in a little over a year and was recognized as one of the top ten most Instagrammed hotels by Condé Nast Traveler.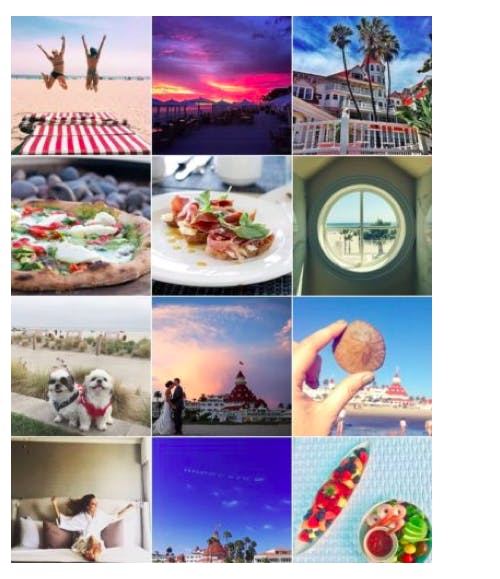 It's worthwhile to note that UGC is also extremely cost effective. Instead of having to pay for advertisements or influencers, companies have the option to simply repost content shared by consumers in an effort to share real-time positive experiences. So, not only is UGC a more affordable option, it is also content that is preferred by consumers. Talk about a win-win.
UGC isn't a panacea, though. Always remember that social is about building and maintaining relationships. In an article published by Skift, Suzanne Cohen, brand director of North American marketing for W Hotels, said: "it's not just enough for hotels to feature UGC, but it's crucial to also maintain a continuous dialogue with guests through social media channels."
The bottom line? People trust people. Hotels are taking advantage of UGC and allowing guests and potential guests to take a peek into another traveler's genuine experience, not one that is a paid advertisement or a posed marketing shot.