It's so close you can practically touch it. With the introduction of a handful of new key features, everyone's favorite photo app — Instagram, which processes 70 million photos per day from 300 million users — is finally primed to start making money.
First is the new Explore tab, which makes it easier for users to connect with new content and with other users. The revamped tab features four main components: Discover New People, Trending Places, Trending Tags and curated content. These tools give guests and potential guests more ways to connect and engage with your property. Instagram also developed a Places search, allowing users to search for your property and see all the photos that previous guests have geo-tagged there. From there, it's a small leap to picture paid, targeted content right in line with your search results.
Next, it's all about resolution. Those 70 million photos a day will soon look better than ever. The former standard of 640 x 640 pixels is going to be upgraded to 1080 x 1080. It's a move made to accommodate larger screens, like the one on the iPhone 6 Plus. While regular Instagram users can appreciate the HD upgrade, it's an advancement that will be instrumental in rolling out a robust advertising platform. Advertisers expect high-quality video and crystal-clear imagery across all devices when they're shelling out big bucks to reach such an active, engaged audience.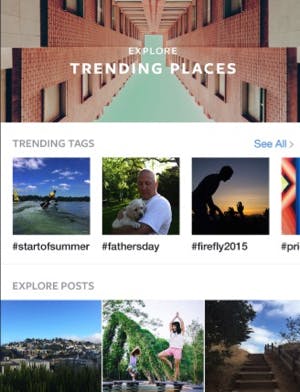 Facebook has made an art out of getting the right piece of content in front of the right audience, and with Instagram we can expect this only to get more precise. The photo-sharing app will likely be plugging into the larger Facebook targeting abilities — meaning demographics, location and interests will be leveraged to get your content in front of the right audience.
So prep yourself, hotel marketers — here come the ads and an incredible opportunity. Expect these opportunities to arrive in between regular programming like lobby shots and pool selfies before the end of the year. Instagram has slowly been acclimating users to the appearance of sponsored content, but what started out slowly has suddenly begun to pick up steam.